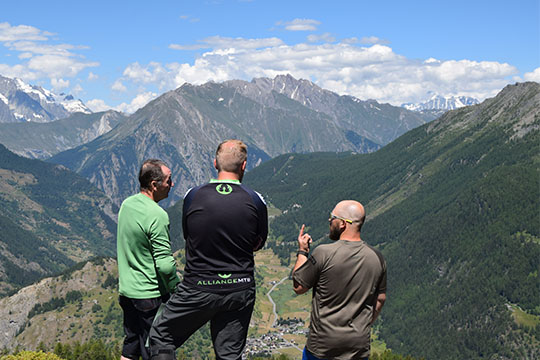 Are You Ready For The Revolution?
Here at Alpine Revolution we are pleased to present our unrivalled packaged and bespoke cycling holidays, all to Italy's stunning Aosta Valley.
Whilst Alpine revolution is a relatively new resident to the Val D'Aosta, it is part of the IST group and sister company to Interski that coincidentally has operated in the valley for nearly 40 years.
---
Beautiful roads in the Aosta Valley for road cyclists, an abundance of resorts for mountain bikers, 40+ years of local knowledge.
A Cycling holiday you'll never forget.
Mountain Biking
The Aosta Valley
---
Why The Aosta Valley?
The Region
The Aosta Valley has something to offer to everyone, if you're an MTB rider looking for their next trail or a Road Cyclist that's on the hunt for their next climb, The Aosta Valley has something for you!
The Culture
Soak up some Aosta Valley Culture, there are plenty of bars and restaurants around the town of Aosta to visit when you're having a break from the bike.
Bespoke Packages
Tell us what you are looking for and we'll endeavour to build a holiday tailored to you, or pick from our weekend breaks or check out our longer breaks.
---
What Our Clients Are Saying
Chris James
MTB Alliance
I've been mountain biking since the age of 12 (don't ask how old I am now!), and the Aosta Valley is honestly the best riding I have ever done in my life - why didn't I know about it 20 years ago.
Tom Gregory
Nottingham, UK
Great few days in the Aosta Valley with Alpine Revolution. Welcoming, friendly and extremely hospitable from the moment we arrived at Turin airport all the way until we flew back. Biking in Pila and La Thuile is up there with the best of them.
Danny Milner
MTB Magazine
Italy's Aosta Valley needs to be on your hit-list. From Pila's plumes of dust and flowing singletrack to steep and deep enduro madness at La Thuile, there's something for everyone, and it's all in the shadow of the stunning Mont Blanc range. Great food, great coffee and good times guaranteed, it's truly La Dolce Vita.
---
Contact us
If you wish to get in contact with us, then please fill the below form in and we will be in touch within 24 hours.

Processing Your Enquiry
Many thanks for your enquiry.
Your details have been sent to one of our team who will contact you with a response to your website enquiry. In the meantime, please feel free to contact us on either 01623 272711 or by email to gobiking@alpinerevolution.co.uk.
We aim to respond to all emails within 24hrs, so please remember to check any junk or alternative folders in your inbox.
Alpine Revolution, 8 Acorn Business Park, Mansfield, United Kingdom, NG18 1EX