The HB Aosta
The 3* superior HB Aosta boasts an array of swanky, modern, stylish rooms all with minibar, safe and satellite TV. North facing rooms offer views over the Gran San Bernardo valley, while south facing rooms provide views over the old town and a wonderful Pila panorama. Situated in a quiet street just off the main pedestrianised area which runs through the centre of Aosta, the hotel is just a pleasant 700 metre walk to our Aosta office and the gondola. And, after a hard day's riding, the hotel's spa area proves popular before a relaxing drink at the bar and an evening meal sampling Aosta Valley cuisine.
---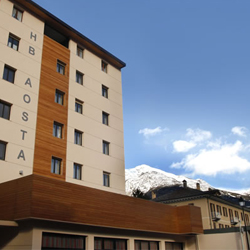 Central Location
Situated in a quiet street in the centre of Aosta, it gives you easy access to both the town and it's only a short walk to the gondola.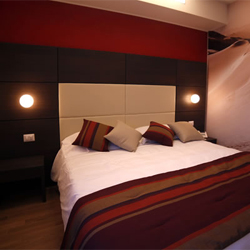 Clean & Modern
The HB Aosta boasts a clean and modern interior, with a service to match.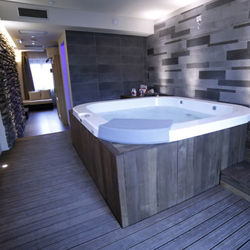 Luxury Extras
After a hard day on the bike, why not treat yourself to some of the luxury extras available in the HB Aosta - just bring your jaccuzzi outfit...
---
Prices for the HB Aosta
Below you will find prices from for the HB Aosta for 3 days, 5 days and 7 days. If you require any different length of break then please state in the Enquiry form at the bottom of the page.
For Mountain Biking
For Road Cycling
---
What people had to say
Check out what some of our clients had to say about The HB Aosta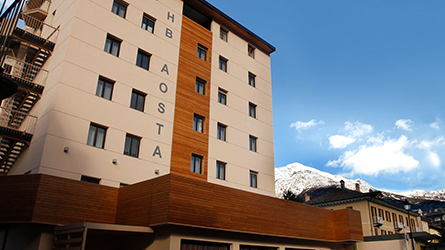 Val Howarth
The HB hotel was fantastic. I have stayed in a lot of accommodation over the years and I certainly wasn't expecting the outstanding level of comfort and service I received whilst I was there. The hotel staff were very welcoming and hospitable, they constantly went out of their way to make my stay the best it could be.
Emily Locke
The hotel was fantastic and, even with our 3 year old who is a fussy eater, nothing was too much trouble
Adam Hillman
Hotel HB was again excellent. Comfortable, clean rooms with friendly welcoming staff and amazing food
---
Enquiry form
Just register your interest by filling out this form and we will aim to reply within 24 hours.

Processing Your Enquiry
Many thanks for your enquiry.
Your details have been sent to one of our team who will contact you with a response to your website enquiry. In the meantime, please feel free to contact us on either 01623 272711 or by email to gobiking@alpinerevolution.co.uk.
We aim to respond to all emails within 24hrs, so please remember to check any junk or alternative folders in your inbox.
Alpine Revolution, 8 Acorn Business park, Mansfield, United Kingdom, NG18 1EX