The Hotel Roma
The 3* Hotel Roma, run by the ever-popular Graziella, is always the first hotel to sell out! Graziella just loves everyone and the reception you'll get will mirror that! In addition to the warmth of the welcome, the Hotel Roma is also popular due to its great position, just round the corner from the cobbled streets of Aosta and its many shops, bars, pizzerias, ice-cream parlours etc. The hotel is also within an easy 10 minute walk from the Pila gondola (400m) - yet another reason which explains its popularity with revolutionaries...
---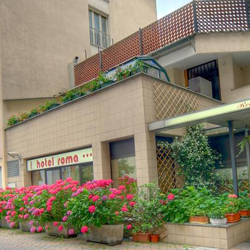 Central Location
Situated on the edge of Aosta, it gives you easy access to both the town and our Aosta office.
Family Run Hotel
Graziella, the owner of the Roma, welcomes everyone with open arms. Her friendliness has made this hotel popular with our Alpine Revolutionaries!
Pleasant Restaurant
The Hotel also offers it's own restaurant, so if you're feeling like a night to give your legs a rest, then this is ideal.
---
Prices for the Hotel Roma
Below you will find prices from for the Hotel Roma for 3 days, 5 days and 7 days. If you require any different length of break then please state in the Enquiry form at the bottom of the page.
For Mountain Biking
For Road Cycling
---
What people had to say
Check out what some of our clients had to say about The Roma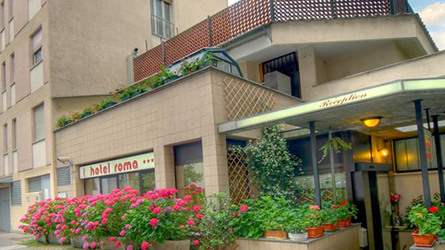 Jamie Watkins
A very warm and homely hotel, the owner made our welcome even warmer. She couldn't do enough for us.
Marie Peck
A fantastic hotel, it has a truly Italian feel. It was great knowing we were going back to somewhere where we were going to get looked after, after a long day in the saddle.
Lily-Anne Burch
A group of us stayed at The Roma, we were all very pleased with it.
---
Enquiry form
Just register your interest by filling out this form and we will aim to reply within 24 hours.
Processing Your Enquiry
Many thanks for your enquiry.
Your details have been sent to one of our team who will contact you with a response to your website enquiry. In the meantime, please feel free to contact us on either 01623 272711 or by email to gobiking@alpinerevolution.co.uk.
We aim to respond to all emails within 24hrs, so please remember to check any junk or alternative folders in your inbox.
Alpine Revolution, 8 Acorn Business park, Mansfield, United Kingdom, NG18 1EX