Longer Breaks
Our longer breaks, of 5, 6 or 7 nights allow you to really explore the Aosta Valley, including the areas which almost seem unknown to the outside world! We're confident this is one of the most comprehensive MTB holidays available - anywhere! You'll be in awe of the variety of riding on offer, from lift-assisted, purpose built bike parks to guided back country, single track and enduro
---
Explore More
Our longer break packages allow you to really explore the Aosta Valley, on and off the trails.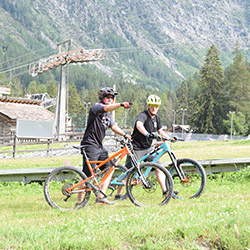 More Miles
Get more miles under your bike with our longer packages, explore more of our two resorts. You can be taken to La Thuile by an Alpine Revolution staff member, completly free of charge.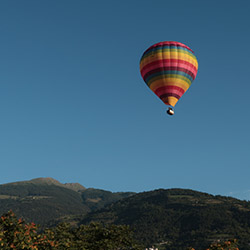 Off The Bike
Take a day off the bike to go and explore what The Aosta Valley has to offer, with attractions such as the historic castles or the Skyway Monte Bianco!
---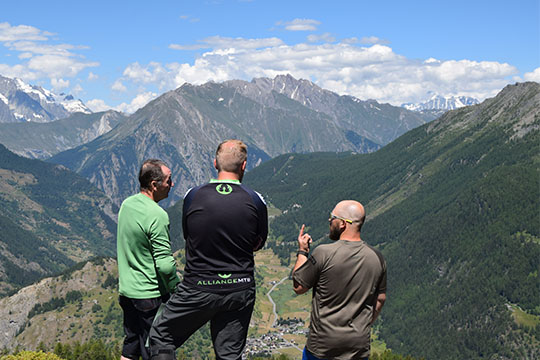 Sample Itinerary
Take a look at a sample itinerary we've set up, this is just a guide to show you what you could get up to when you're out in the Aosta Valley. The days are also jusat a guide.
---
Sunday
Arrive in Turin/Malpensa and transfer to resort. Welcome meeting in hotel and opportunity to build bikes in our secure storage building.
---
Monday
Your first ride out with Alpine Revolution in Pila.
---
Tuesday
A day away in the safe hands of one the local guides offering some of the best back country in The Aosta Valley.
---
Wednesday
A days riding in La Thuile.
---
Thursday
Another day away in the safe hands of the local guides! They'll show you even more back country riding to suit your taste!
---
Friday
A days riding in Pila.
---
Saturday
Return transfer to the airport.
Short breaks
---
It's easy to travel with Alpine Revolution!
Our longer breaks are all about you! You tell us when you want to go, where you want to stay and we will do the rest!
Package
Pick from one of our packages, either the short stay or longer stay holidays
Hotels
Let us know which hotel you like, if there's more than one, please let us know and our experts will give you some more information on them.
Dates
When would you like to travel? Just let us know by filling in our form in the hotel section you like. You can travel on any day you like, it's completely up to you.
Optional Extras
We offer a few optional extras, such as return transfers which start from only £50pp from Turin. Guiding is also available, with our team out in Aosta Valley, you'll be able to go on trails and routes which suite you ability. Don't want to take your own bike? Bike hire is as little as €50 per day.
Getting to The Aosta Valley
There are lots of option for you to get to the Aosta Valley. Lots of people self drive to the Aosta Valley, to turn it into a real experience (plus there is an array of beautiful scenic routes on the way through the French and Italian Alps). Air travel is also available, you can fly into Turin or Milan, we off return Transfers too!
---
What people had to say
Check out what some of our clients had to say about our short break packages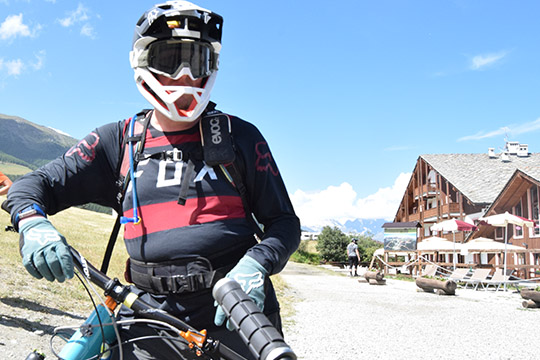 Hettie Conway
"The longer breaks were perfect for me and my partner, we really got to explore the Aosta Valley, it gave us chance to ride as much as we wanted to but still have time to adventure around the town of Aosta.
Dannielle Greaves
"What a fantastic week! The group I was with Enjoyed it so much we are coming back next year! We absolutely loved Geoff, our guide who showed us around every.
Ollie Mcgowan
"I've never been to a place like this, the Aosta Valley is amazing. I opted to stay for 6 days which was great because I got the time to go down the trails I wanted without missing any of the good ones.
---
Hotels
Check out our hotels!
We have a great range of accommodation to choose from. From traditional family run hotels to the ultra modern. All rooms have private facilities and are within walking distance of our office and storage facility.
View hotels